Latest News Blog
Friday, 11th September 2015
---
Queenstown Primary Query About The Past
Tuesday, 1st April 2014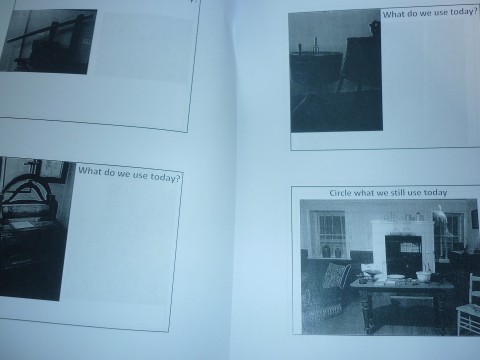 The worksheets students completed during our session
Year 5 students at Queenstown Primary School are learning about the changing roles of families, so a visit to the Lakes District Museum was a great way for the students to discover what families were like over 100 years ago!
A group of students had a tour of the Chinese settlement. This showed the students the lonely lifestyle the Chinese settlers in Arrowtown experienced, as the population in the village was all male! The Chinese settlers traveled to New Zealand and left their families behind, hoping they would return within a few years with money to help their families.
All of the groups had an 1880's school room experience with Miss Gray. This helped students understand the role of children over 100 years ago. Children were expected to wake up a the crack of dawn and complete family chores (like milking the family cow) before going to school. Once at school, learning was very strict and students could be punished by a cane!
All of the year 5 students also received a tour of the Museum focusing on artefacts used by families during the late 1800's. Students learned about clothes wringers, old washing machines, sewing machines that had no electricity to power them, a butter churn, and other old domestic artefacts. As a group we discussed the similarities and differences between family life then and now.
What were some of the chores expected of children during the 1800's?
What chores do you have to do today?
What did families do to have fun during the 1800's?
What does your family do to have fun now?
Answer my questions and comment about your visit below!
By: Amy Taylor @ 15:35:53 -