Latest News Blog
Friday, 11th September 2015
---
Students from South Africa!
Wednesday, 23rd April 2014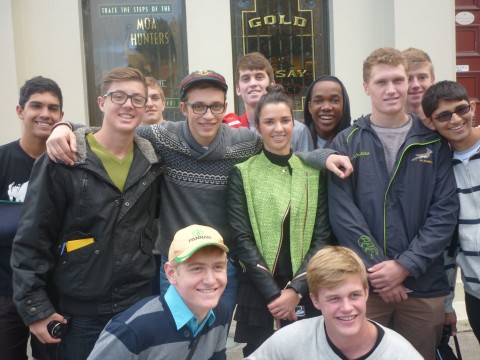 Thanks for visiting!
A school group all the way from South Africa visited the Lakes District Museum & Gallery this morning!!
33 senior high school students from South Africa were very enthusiastic about their visit to Arrowtown this morning. As geography students, they could all see that visiting the Wakatipu region was a valuable learning experience about the cultural processes of tourism. The students were given a short tour of the museum, which was then followed by a geography presentation. During the presentation we discussed the glaciation of the area and how it formed our beautiful landscape and how it made our rivers a source for alluvial GOLD! We also discussed why people visited the region, activities on offer here in Queenstown, as well as the positive and negative effects tourism can have upon the Wakatipu region.
Their visit finished with a historic walk of Arrowtown, where I locked students up in our Old Gaol and let them in on the secret of Mary Cotters tree...
Enjoy the rest of your visit everyone - have fun luging and bungy jumping!
Comment below about your visit to New Zealand and about some of the tourist activities you have enjoyed.
By: Amy Taylor @ 12:18:53 -