Latest News Blog
Friday, 11th September 2015
---
Timaru Girls Turn Up To Learn!
Wednesday, 16th April 2014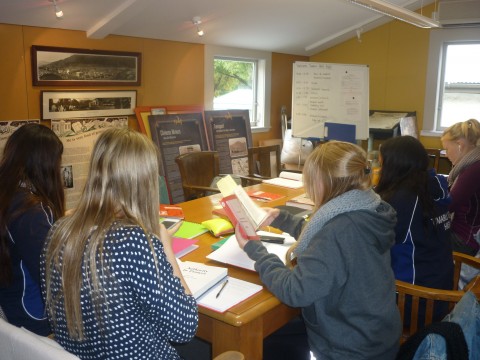 Researching in our conference room
Timaru Girls High were our last school booking for term 1! Phew - what a fantastic and busy way to start the school year.
These history students were interested in using our archives for research and to take advantage of our resourceful library of books. Some primary resources the girls found really helpful included a gigantic burial register book from the 1800's. This book helped the girls understand the living conditions on the goldfields through examining causes of deaths. Another primary resource was the Wardens Court Case book which was used in Arrowtown during the late 1800's as well. This book gave the girls real insight into law and order, and the typical crimes and punishments around this region.
The girls also enjoyed a historic walk of Arrowtown and a quick tour of the Chinese settlement. I hope you gained lots of information girls! Comment below about your visit to the museum!
By: Amy Taylor @ 09:37:02 -