Latest News Blog
Friday, 11th September 2015
---
Waimate Focus On History!
Monday, 7th April 2014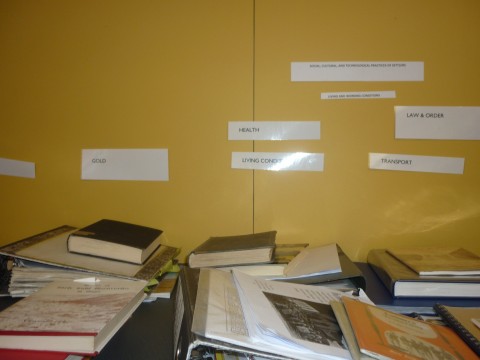 Books from our library were categorised into different subjects to suit the students focusing questions
Senior History students from Waimate High School visited the Lakes District Museum for 2 full days to complete research for their History assessments.
With access to our archives, and our library of books categorized to suit their focusing questions - the students have an information overload! Their visit also included a historic walk of Arrowtown, a tour of the Chinese settlement, and full access to our Museum. During the historic walk of Arrowtown, we focused on visits to the different churches that were established during the 1870's as well as a visit to the local cemetery to highlight what living conditions used to be like.
The second day of their visit ended with some gold panning at the Arrow river. One student found four specks of gold so it was a very successful way to end the field trip!
The quality of the research has been really excellent, and I am sure Waimate History students will achieve some fantastic results for their assessments!
Comment below about your visit to Arrowtown and what you found interesting at the Lakes District Museum!
By: Amy Taylor @ 16:41:03 -