Latest News Blog
Friday, 11th September 2015
---
Craighead Come To Arrowtown!
Wednesday, 21st May 2014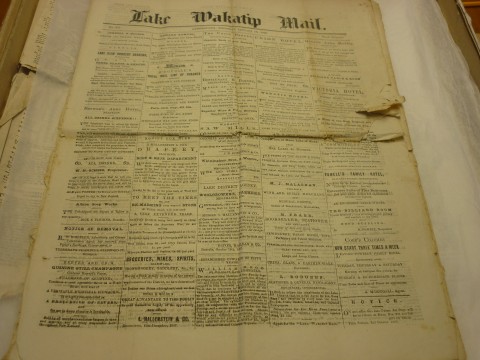 One of the old newspapers Craighead were able to view

Craighead senior history students spent a day researching in our Archives for their NCEA history projects.
The students had full access to a variety of resources which included both primary and secondary material. These students were extra lucky, as we got David our Museum Director to pop in and help with their research. This meant the students got to view old newspapers from the Wakatipu region which had been published during the 1800's. This is something that isn't typically available for the public, as the newspapers are extremely old and delicate, so we were very fortunate that David was available to provide this once in a life time opportunity!
Did you learn anything new or interesting during your visit?
Do you think the access to our archives will be useful in completing your assignments?
What was your favourite part about visiting the Lakes District Museum?
Answer my questions and comment about your visit below!
I hope you get excellent marks for your NCEA assignments - thanks for visiting Craighead!
By: Amy Taylor @ 15:37:51 -