Latest News Blog
Friday, 11th September 2015
---
KAKAPO CHICKS IN ARROWTOWN!
Friday, 23rd May 2014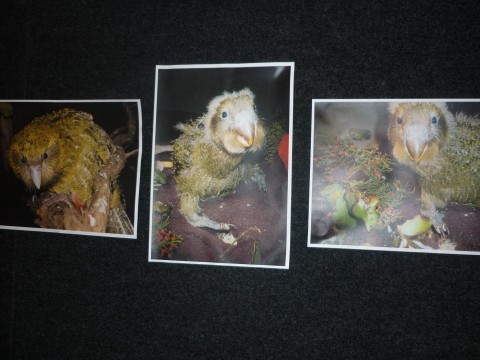 Photos that were on display showing the Kakapo's growing up
The Department of Conservation set up camp in the Arrowtown Athenaeum Hall today with some very cute baby Kakapo chicks!
This was a very special event which was open to the public, and you only needed a gold coin donation for admission. Inside the hall DOC employees and volunteers educated the public about conservation for these creatures, and how they were hatched and fed in captivity. DOC has a focus on increasing Kakapo numbers, as these birds are an endangered species, so they hope to release these Kakapo chicks into the wild when they are older. The highlight of the visit was being able to view three Kakapo chicks inside the hall!
The chicks were kept in a large glass box, and their feathers helped them camouflage into the bush and plants which were inside the box. When I viewed the chicks, they were just snuggling in for a sleep. They lay flat on their tummies, and nice and close to each other to keep warm. Apparently this is very unusual for other bird species, but very typical for baby Kakapo! When they get older, they will sleep upright like most other birds.
If you are interested in learning more about these beautiful birds please visit the Kakapo Recovery website!
Did you visit the Kakapo chicks?
Do you think the Kakapo chicks look cute in my pictures?
What other interesting native animals from New Zealand do you know about?
Answer my questions and comment about the Kakapo's on this blog!
By: Amy Taylor @ 16:40:49 -