Latest News Blog
Friday, 11th September 2015
---
Mossburn has a BIG day at the museum
Friday, 23rd May 2014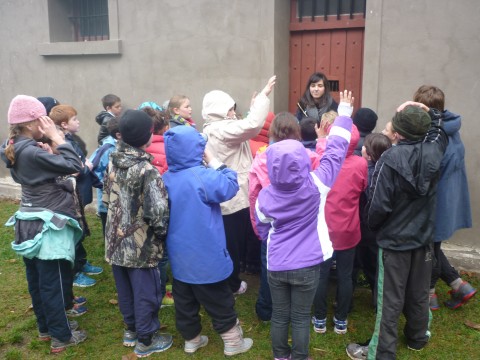 Outside the Old Gaol
Mossburn School sent their year 1 - 6 students to the Lakes District Museum for a day trip. There were 58 students in total, so it was a very BUSY day!
This is what we got up to:
A museum visit which included handling artefacts and exploring the museum. Students got to handle a Moa bone and they also got to check out our infamous long drop display!
A terrifying lesson in an 1800's school house taught by Miss Gray!
A quick visit to the Old Gaol with our year 4 - 6 students.
A tour of the Chinese settlement, where students went inside Ah Lums store and learned about how the European settlers treated the Chinese settlers.
What was something really exciting you learned during your visit?
Do you think learning is easier today? Why?
Do you think it would have been hard for the Chinese settlers to live in the settlement near the river? Why?
What cool artefacts did you get to handle in the museum?
Answer my questions and comment about your visit on this blog!
Thanks for visiting Mossburn kids, it was fantastic to have a group visit that had so much energy and who were really keen on learning (with some fantastic questions)!
By: Amy Taylor @ 16:22:37 -