Latest News Blog
Friday, 11th September 2015
---
We love receiving your thank you messages!
Wednesday, 28th May 2014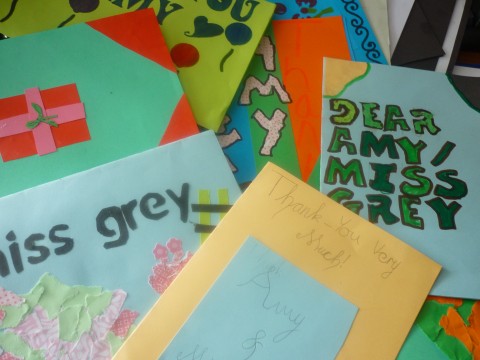 Thank you for the wonderful thank you messages you keep sending us!
We absolutely love having you all come visit us, and we always have a great time!
Some of the students who send in cards can remember the poem they learnt with Miss Gray ... Can you remember the poem? It starts like this: Now children mind that you're in school ...
Other students enjoyed the gold panning, especially if they were lucky enough to find gold! Did you find any gold when you visited us?
These thank you letters and cards always mention how the students LEARNED during their visit and about how much FUN they had as well. Do you think we make learning fun at the museum?
What are some new things you have learned with us during your visits?
Did you send us any of these cards? Let us know!
What is your favourite part about visiting the Lakes District Museum & Gallery?
Click through the gallery of images and let me know which is your favourite thank you card, message, letter, or drawing!
Answer my questions and comment below!
Keep sending through the kind messages everybody... WE LOVE RECEIVING YOUR MAIL!
By: Amy Taylor @ 16:11:13 -