Latest News Blog
Friday, 11th September 2015
---
Dunstan High Discover History!
Monday, 8th September 2014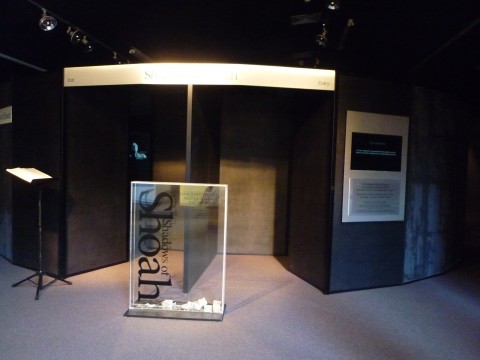 The entrance into the Shadows of Shoah exhibition
Dunstan High School students visited the Lakes District Museum & Gallery for 2 LEOTC programmes today; The Shadows of Shoah Exhibition, and Senior History Research.
The Shadows of Shoah exhibition focused on the Remember, Reflect, Respond, and Resolve formula as students viewed short clips about 7 holocaust survivors experiences.
The remainder of the day was spent on historical research in our archives facility as students learned how to use archives appropriately and effectively, as well as examine sources of information and then drawing conclusions based on the evidence.
The historical research also included a tour of the Chinese settlement which helped students answer their key questions:
How did the Chinese get to Arrowtown?
How did they live?
How were they treated in Arrowtown?
Are you able to answer the key questions?
What was the most valuable part of your trip to the museum?
What was the most memorable part of the Shadows of Shoah exhibtion?
Answer my questions and comment about your visit below.
Thanks for visiting Dunstan High!
By: Amy Taylor @ 16:16:29 -