Latest News Blog
Friday, 11th September 2015
---
Mararoa Enjoy a day trip to Arrowtown
Friday, 12th September 2014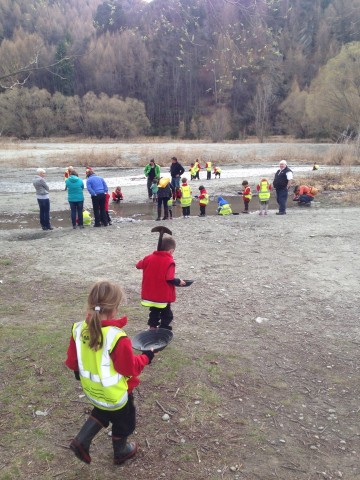 Eager gold panners!
Year 1 through to year 8 students visited us from Mararoa as they have been learning about houses and construction! These students already had some knowledge of present day houses and construction as well as knowledge of traditional Maori buildings, so we planned an itinerary around their specific learning goals which involved:
Gold panning
A tour of the Chinese settlement
A historic walk of Arrowtown
And a museum visit which included handling artefacts
These activities linked to these learning goals:
Looking at building materials of early houses and buildings
Discuss reasons for positions of houses and shops
Compare early household conveniences with today's
Look at how the influence of climate, occupation, and cultural background had on these early buildings
We all had a lot of fun and some students were even lucky enough to find gold! Wendy and I were very impressed with the enthusiasm Mararoa School had for learning.
What type of stone was used to build the Chinese settlers huts?
Why were the houses so small?
What household conveniences were these early homes missing (think about electricity and plumbing)?
Why was the Chinese settlement built away from the European settlers?
Did you enjoy your visit?
Answer my questions and comment about your visit below!
Thanks for visiting Mararoa school, we hope you had a safe trip home!
By: Amy Taylor @ 16:21:57 -