Latest News Blog
Friday, 11th September 2015
---
Palmerston Pay a Visit
Wednesday, 15th October 2014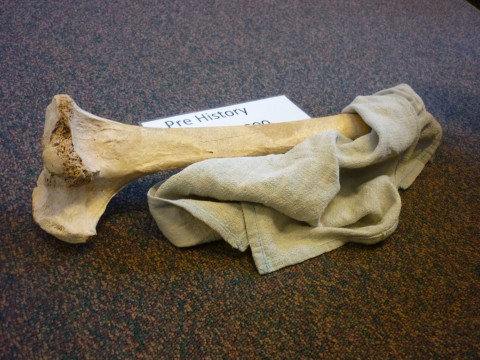 The moa bone students got to handle during their museum visit.
We had a great start to term 4 yesterday with Palmerston Primary school visiting us for a full day!
We were kept busy all day with a scary lesson with Miss Gray, a historic walk of Arrowtown, a museum visit, a tour of the Chinese settlement, and gold panning! The students really enjoyed hearing the local ghost stories I had up my sleeve - everyone wanted to try find Mary Tobin's portrait! They also really enjoyed learning about the living conditions during the gold rush.
What was your favourite part about visiting the museum?
Do you think life over 100 years ago was difficult or easy? Why?
Answer my questions and comment about your visit below!
Thanks for visiting Palmerston!
By: Amy Taylor @ 11:51:54 -
---
Comments (1)