Latest News Blog
Friday, 11th September 2015
---
James Hargest Learn About WWI and the Wakatipu
Thursday, 20th November 2014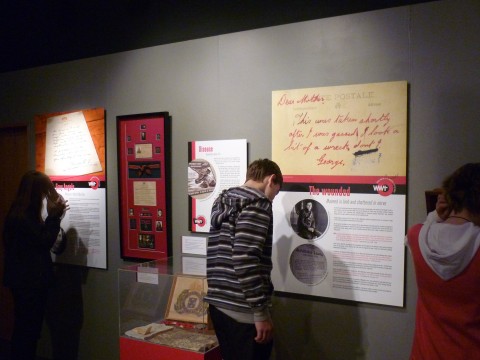 Viewing our WWI and the Wakatipu exhibition
Year 9 students visited the Lakes District Museum & Gallery as part of a fun class outing before the end of the school year. The focus was on having fun as well as a bit of learning on topics the students had already studied throughout 2014 which included WWI and the goldrush.
Their visit included an interactive viewing of our WWI exhibition, a historic walk of Arrowtown to learn about how the war affected a small community, a tour of the Chinese settlement and learning about the gold rush, and then finishing off the visit with gold panning! We also gave the students plenty of time to explore Arrowtown!
Thanks for visiting James Hargest, comment below about your visit to Arrowtown!
By: Amy Taylor @ 15:19:03 -