Latest News Blog
Friday, 11th September 2015
---
WWI and the Wakatipu - Arrowtown School Remembers
Tuesday, 11th November 2014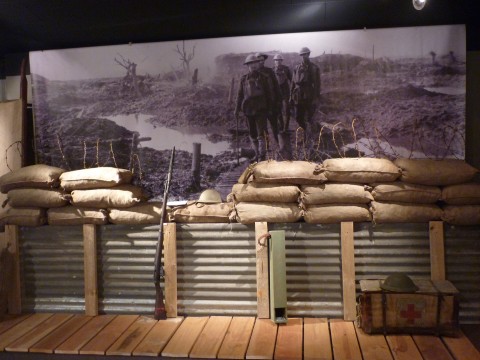 Part of our exhibition includes a recreation of a trench!
Year 7 and 8 students from Arrowtown school have visited the Lakes District Museum to view their posters which have been included as part of our WWI exhibition, and to learn about the effects of war on a small community.
Students really enjoyed checking their measurements to see if they suited requirements for enlisting in 1914. Men had to be at least 64 inches (162.5cm) tall and weigh less than 167.6 pound (76kg). Whilst viewing the exhibition, students completed worksheets which helped them understand the many levels the Wakatipu was involved with war effort which included scheelite mining, women fundraising and enlisting as nurses, and how German citizens living in the region were treated.
The visit was followed with a historic walk of Arrowtown, some of the sites that we visited included:
The Post and Telegraph Office - mail was the only form of communication between soldiers and their families which could take as long as 7 weeks to be delivered. Everyone in Arrowtown dreaded receiving a telegram which would be delivered by bicycle, as the urgency of the news meant that someone had either been killed in action, was missing in action, or had been seriously injured.
The Town Hall - farewell parties were hosted for the men who had enlisted, which the whole town would attend including the Arrowtown Mayor. The town hall was also used as fundraising evenings which were organized by the women of the community, to collect money for the Belgian Relief Fund or the Wounded Soldiers Comforts Fund.
The Arrowtown Pharmacy - which during WWI was the Arrowtown General Store which was owned and operated by the Goodley family. Their son Alexandra Goodley enlisted, and was injured at Gallipoli in his right thigh which lead to his death in 1915.
The War memorial - 18 names from Arrowtown are listed on this memorial for WWI, which has been built on Soldiers Hill high above Arrowtown. This memorial was built as Arrowtown residents wanted to commemorate those that did not return and to honour their sacrifice.
The Arrowtown Cemetery - Some soldiers have their names listed on family headstones even though their bodies never were returned from overseas. Charles Eckhardt a German hairdresser who lived in Arrowtown is also buried in the cemetery, he was shunned by the Arrowtown community because of anti-German sentiment during the war.
What did you find most memorable about your visit to the museum?
How do you think the War affected the Wakatipu?
Answer my questions and comment about your visit below!
Thanks for contributing to our exhibition Arrowtown School!
By: Amy Taylor @ 16:12:07 -
---
Comments (22)