Latest News Blog
Friday, 11th September 2015
---
Police talks!
Friday, 11th September 2015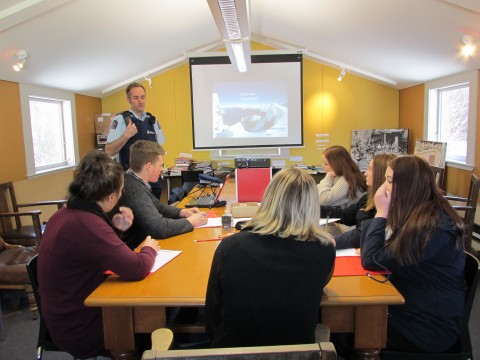 We have been fortunate enough to have Senior Constable Sean Drader who is an Intelligence Officer for the NZ Police come in and talk to numerous groups of high school students. Sean is well versed in all the figures and statistics that surround CRIME in Queenstown. This has been particularly helpful for students doing NCEA level 2/3 geography- standard 3.2. In this unit standard students can choose to look at the negative impacts of tourism on the area to get a broader knowledge base of how tourism affects us (remembering, its our life-blood). Sean provides a much enjoyed offical law perspective with one or two juicy stories thrown in. It's a fantastic accompaniment to the Toursim Presentation that we give here at museum.
If you are interested in having Sean talk you your students please contact myself and I will arrange it as part of your school visit to the museum (for no extra charge!).
Ka kite ano,
Anneliese
By: Anneliese Stephens @ 10:30:57 -